Biography For Walter Fromm
If you would like more information about this person, please contact our research library.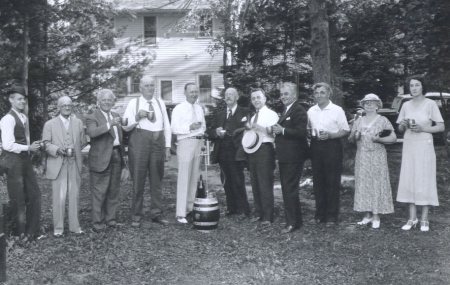 Author:
Bill Hart
Background:
The Fromm brothers, Walter, Edward, John and Henry, were born and raised on the family farm just outside of Hamburg. Henry dreamed of foxes. John was in tune with nature. Walter saw a future in ginseng, and Edward could put ideas into words.
Accomplishments:
The Fromms began their journey by trapping red foxes, hoping to catch a "sport" with black in its fur. They had no luck and in 1904 decided to buy black silvers. In reality, they were looking for a way to finance their ambition to raise silver foxes. Their problem was that silver foxes were terribly expensive and they couldn't afford to buy any of them.
They had heard the claims of Reinhold Dietsch that one knowing what he was doing with the soil could make $20,000 an acre growing ginseng. An off-hand remark by their father about Dietsch's alleged gold mine aroused their curiosity. Checking the market reports in a monthly trade journal, Hunter-Trader-Trapper, they discovered that their fellow townsman was not making an idle boast. Dried ginseng root from the north-central states was selling at six dollars a pound. No further incentive was needed.
They turned to the cultivation of ginseng as a means of raising money to buy foxes. In 1909, five years after the first planting, they harvested their first crop for $24. They used that money to buy cross silver foxes, which produced only red foxes. Gradually, as their fortunes increased, they eventually purchased a black fox and an outcast female for breeding. Out of it grew not only the largest commercial ginseng operation in the US, but the largest silver fox breeding operation as well. The Fromms studied the wild ginseng and its habitat, and then tested what they learned in year after year of painstaking experimentation. They invented many new and better techniques for domesticating ginseng. By 1913, there were three firms raising the plant in Marathon County, including one in the city of Wausau. By 1919, the Fromms became the county's leading producer of the root. They organized the National Cultivated Wild Ginseng Growers Association, and from that point forward, timber no longer represented the only potential source of wealth to come out of Marathon County forests. In their heyday, the Fromms, with 17,000 acres of land, each year harvested 30,000 silver fox pelts, 24,000 mink pelts and nearly 500 acres of ginseng.
Between 1929 and 1947, the Fromm Brothers business was expanded. It included the Fromm Lab for animal research and disease control at Grafton; an animal food business, Federal Foods, at Thiensville, production of mink at Hamburg; manufacturing of fox fur garments in New York City and Merrill; and increased numbers of foxes and ginseng acreage.
---
Other Information
---
Date of Birth: 5-4-1888
Place of Birth: Wis
Date of Death: 6-20-1975
Place of Death: Wis
Place of Burial: Trinity Lutheran Cemetery Berlin, Wisconsin
Race: W
Father's Birthplace: Wis
---
All Photos: